Heavy rains have caused devastating floods and landslides in Himachal Pradesh, a region known for its stunning scenery and serene beauty. Aaroham Resorts and the entire nation stand in unwavering support of Himachal Pradesh and its people as the rain pours down nonstop, causing misery and fatalities. It is crucial to put safety first and take the necessary precautions during these difficult circumstances.  We at Aaroham Resorts send our deepest condolences to the families of the deceased and stand ready to help those who have been impacted. Additionally, In these challenging times, it is crucial to prioritize safety and adhere to necessary precautions. 
Himachal Pradesh Police Helpline
Aaroham Resorts is aware of the necessity and significance of helping those in need. A list of phone numbers has been shared by Himachal Pradesh Police so that people can inquire about friends and family who may be stranded in Himachal Pradesh. For any information or assistance, get in touch with the District Police Control Room (DPCR) and you can inquire about your loved ones' last known residence or location.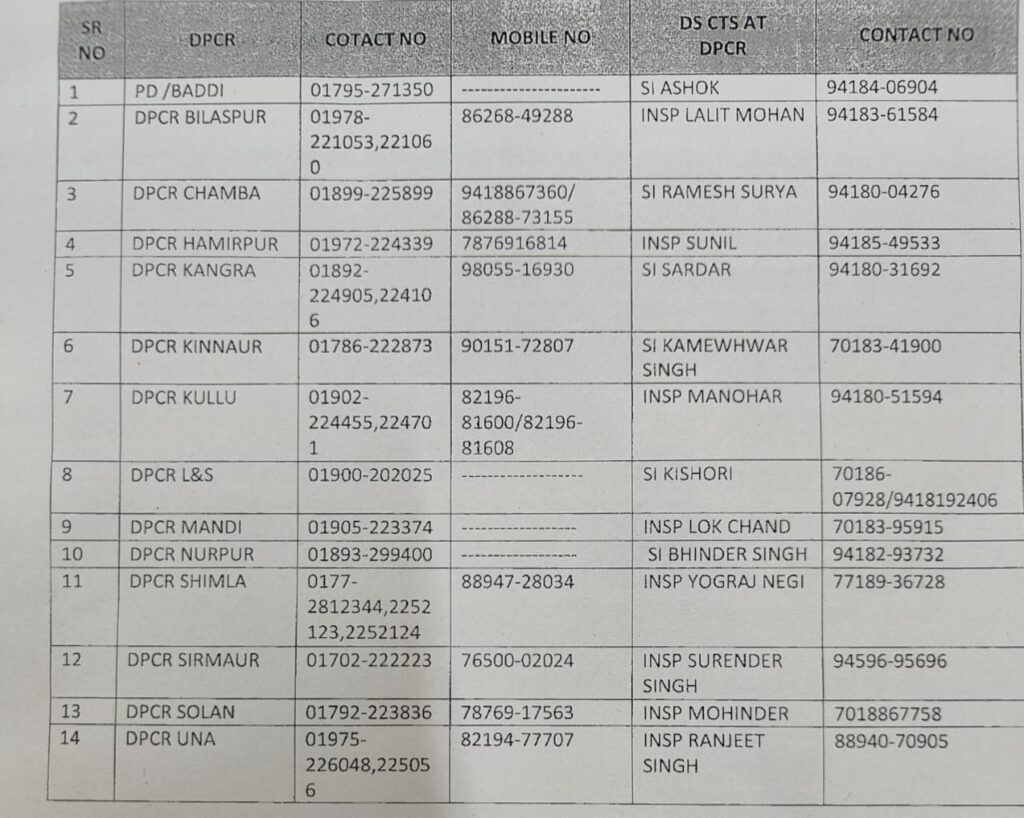 Safety Tips
We strongly advise delaying your trip until things settle down if you had intended to travel to or explore Himachal Pradesh during this time. Everyone's top priority should be their safety.
Pay close attention to any evacuation orders issued by local authorities if you live in a region susceptible to flooding or landslides. Please pay close attention to their instructions and move swiftly to safe areas.
Keep up-to-date with local and national weather forecasts and advisories by following the Indian Meteorological Department (IMD) and other relevant sources. Reliable online sources and television can help you stay connected.
Save emergency helpline numbers such as 1100, 1070, and 1077 provided by the Himachal Pradesh Chief Minister. In case of any distress or if you require assistance, do not hesitate to contact them.
Avoid driving or walking through floodwaters. Stay away from areas that are affected by flood or are prone to flood. The water's strength and depth can be deceiving; it could sweep you away or conceal hazardous debris beneath it.
Stick together, but exercise caution in times of difficulties, we must unite and support one another. However, it is important to prioritize safety while doing so.
Lastly
Aaroham Resorts extends its unwavering support and solidarity to the state and its citizens as Himachal Pradesh fights against the constant rain and its effects. We regret the deaths and send our sincere condolences to the afflicted families. Everyone must put their safety first by taking the aforementioned precautions and paying attention to the guidance of local authorities. We are confident that Himachal Pradesh will recover and regain its natural beauty by working together, being resilient, and being determined. In these difficult situations, let's stick together and support the people of Himachal Pradesh.
Note: For accurate information and direction, please make sure to keep up with the most recent news and advisories released by local authorities.